The problem
Searching for a new home is a complex process and the users often do not know exactly what they are looking for. Most real estate websites prompt the users to search within a zip-code or municipality as well as define their preferred type of housing, but this leaves a lot of users with the results that does not fit their budget or their needs. Therefore, we set out to redesign the experience of searching for properties online. 
The team
This was a group project conducted at the IT-University in collaboration with Lokalbolig. This meant that I had 4 other amazing design students at my side during this project. My main tasks in this project included interviews, concept development and developing  the physical prototype and storyboards for testing.  
Research
Through
desk research
, we saw a pattern of real estate websites prompting users to base their search on hard values, such as zip-code, square meters, number of rooms and price. 
To gain insight into the experience of the users, we conducted
interviews
with 6 people in different life situations, such as looking for their first home, looking for something bigger to start a family in or looking for something smaller as kids had moved out. However, they all had a similar goal - finding a permanent resident to call their home. 
Analysis
One of the methods used in our analysis was the
empathy map
. We wanted to understand the challenges, but also the subjectivity that goes into buying a house. 
We found that many people say that they are not in a hurry, but they still think searching for a home is
stressful
 - especially because of the uncertainty and fear of missing out. Additionally, we found that people see it as a very complex and difficult process to evaluate the quality of a house and know what is good or bad, as most people have
limited experience
with buying a new home, and often include
friends
and family in the process. 
However, we could conclude that it did not actually matter, if a house fulfilled the user's needs, where in the right area, had the squaremeters and were at the right price, if the
gut feeling
was not just right.  
"We search on area, price and squaremeters, but it is the gut feeling that decides the matter."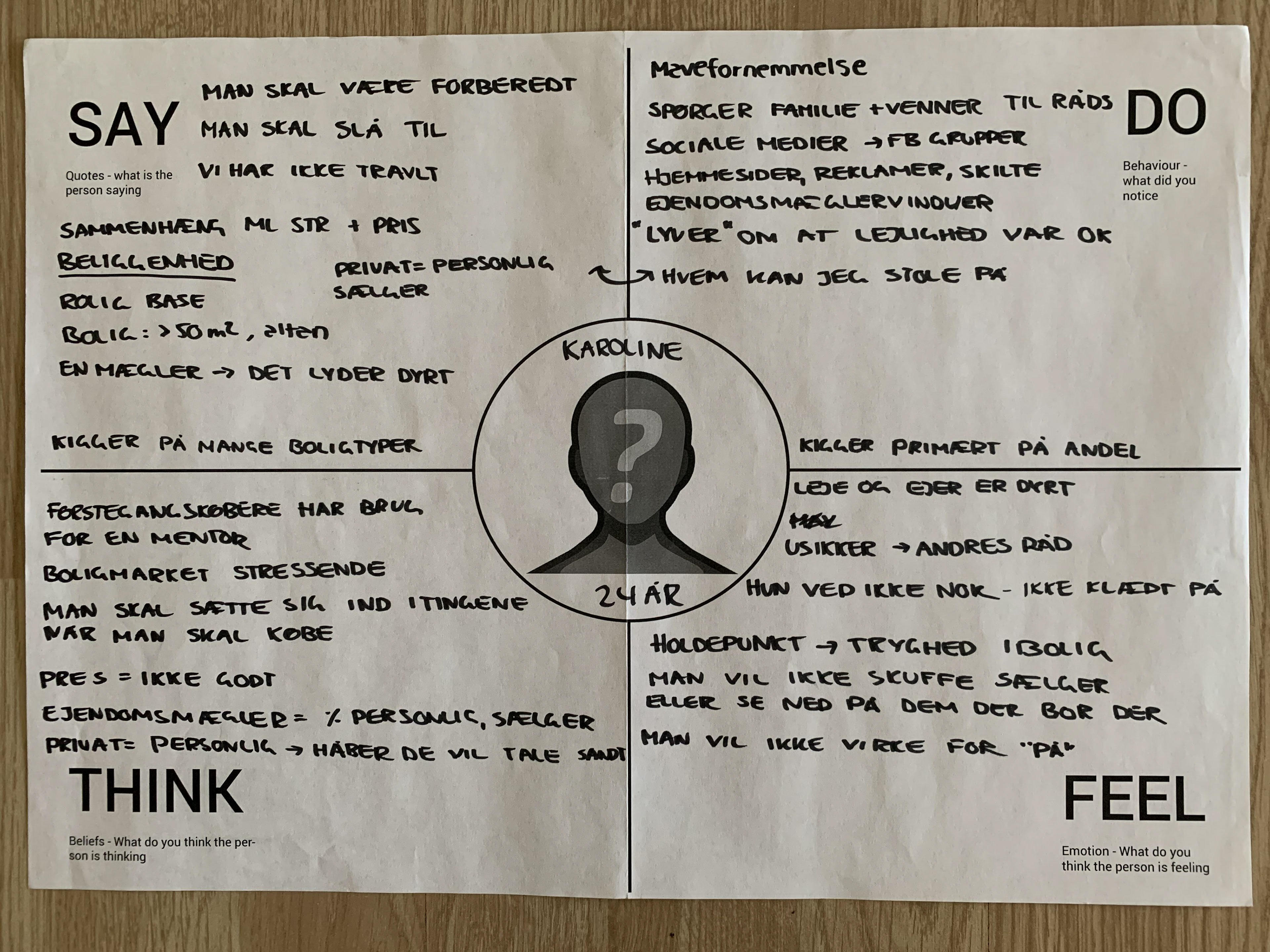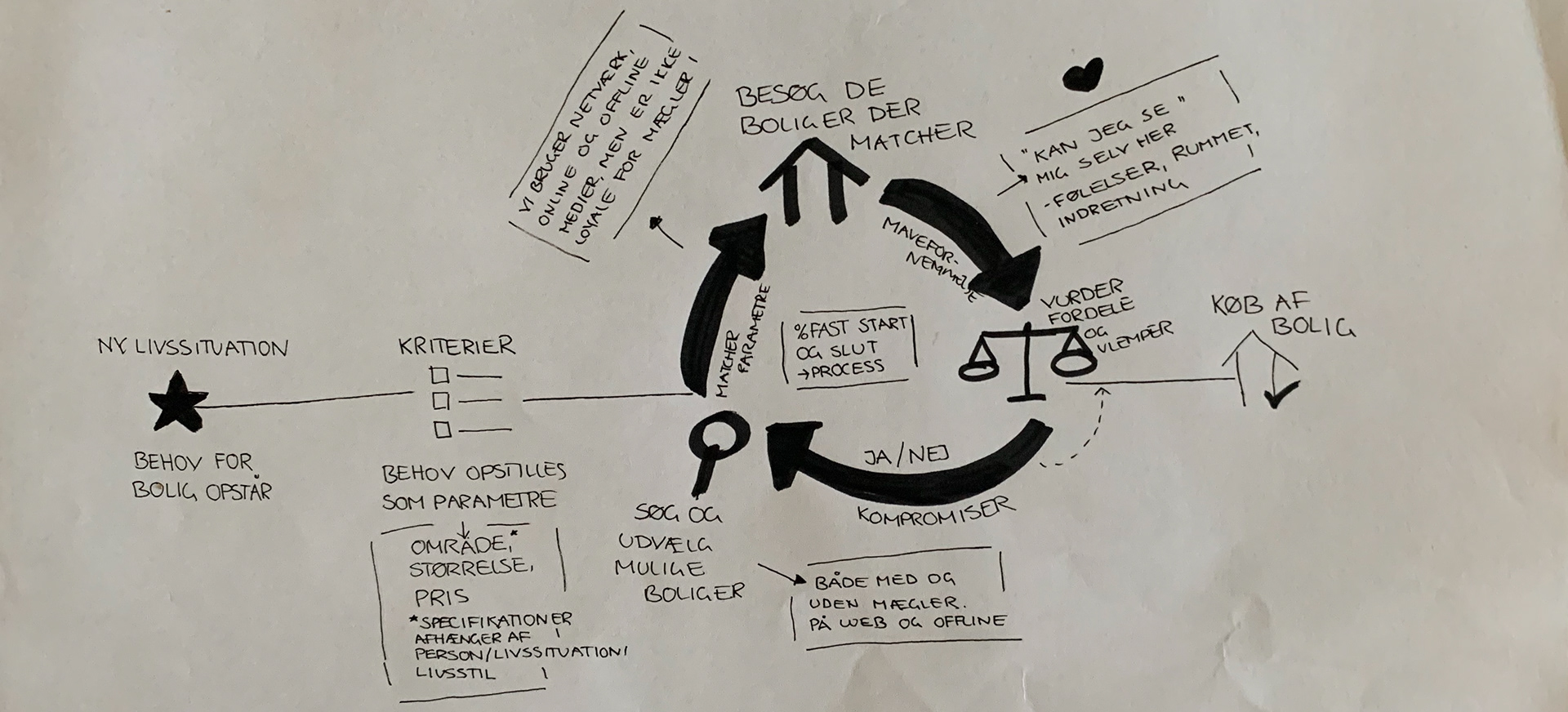 Design
The design session was run in a 
sprint
format, where we had 4 hours to work with different methods to come up with ideas. To set the stage, each member of the group created three user statements, which we compared, discussed and chose three to work with. The user statements were transformed into
'How might we' questions
so that they became more generative for design. 
In the ideation session, we used the method of train-brain to get into a creative mindset. Afterwards, we used the method of 
50 ideas in 10 minutes
to generate a wide range of ideas within our domain. To finish the session off, we used the
six thinking hats
to evaluate, select and build on our ideas. 
We came up with three good ideas, which we chose to
sketch
to even better discuss the benefits and challenges of each solution.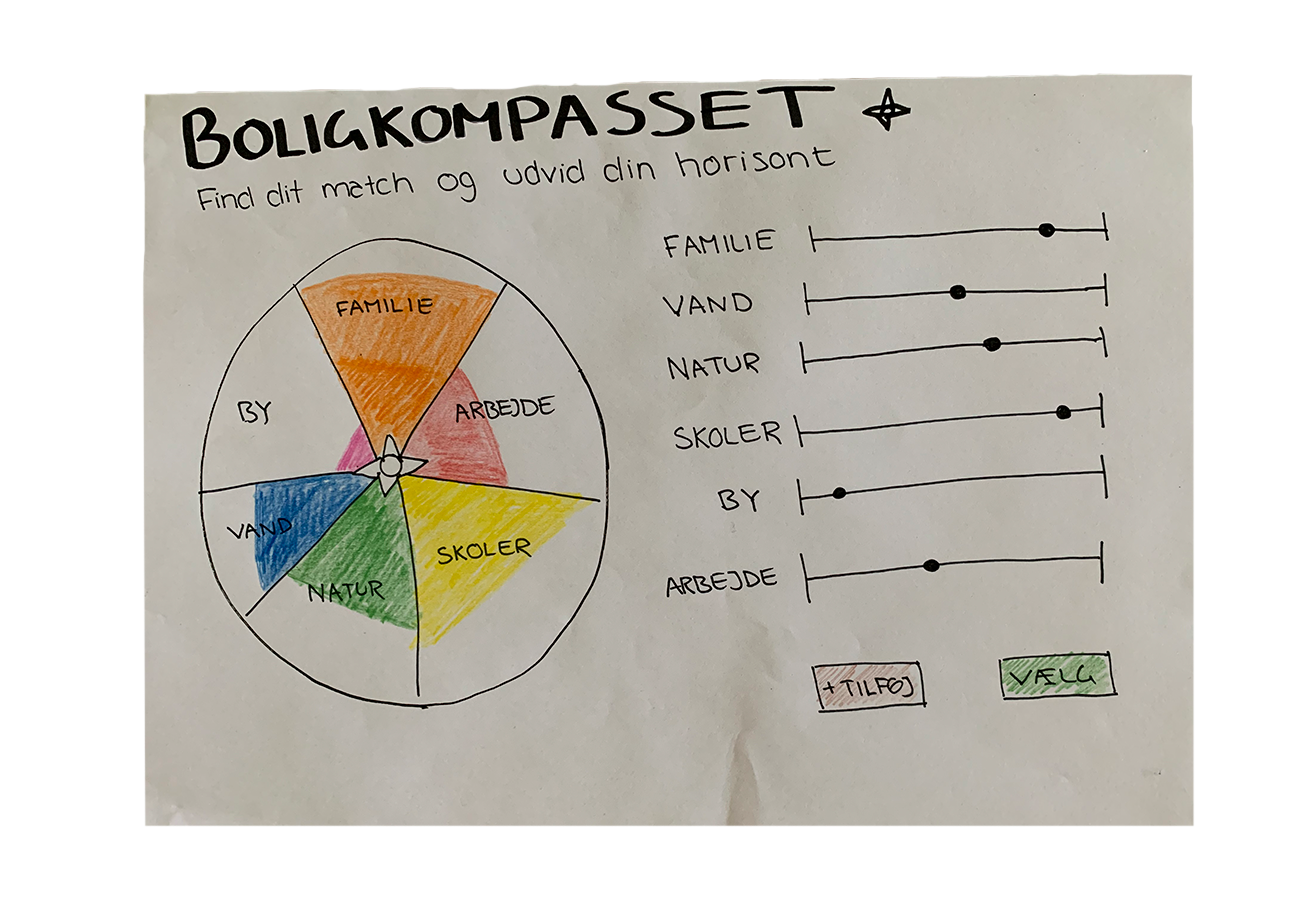 Prototype
We ended up choosing the concept called 'Boligkompasset' - the housing compass in english. This idea addressed several of our HMW-questions, such as creating a more personalized experience and expanding the buyers horisont in relation to relevant areas. 
We created a
physical prototype
, which represented different search topics, such as distance to family, nature, schools, city life, work and water and the value which the buyer had assigned them. 
In addition to the physical prototype, we created storyboards which explained the use of the tool.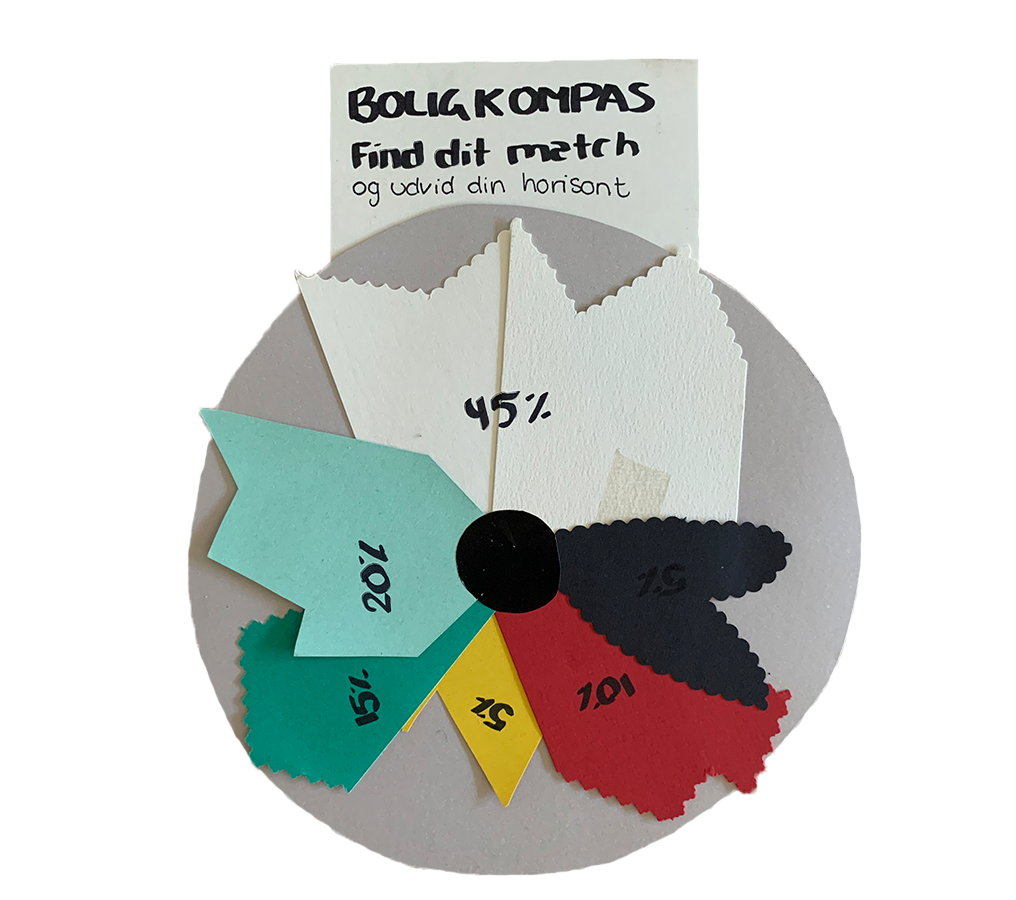 Test
Several rounds of test and iteration was conducted. In total, the concept was tested on 13 people, and iterated several times along the way. At first, we presented people to our concept through
a storyboard and a paper prototype
in order to get some general feedback. We got a lot of positive feedback, but found that we had to work on the search criteria. To specify these, we asked people to define the criteria from which they would search for a new home, if price and place were not an option. We found that especially distance to schools, grocery stores, public transportation, green areas and cultural possibilities were of high interest to the interviewees.
The concept was then 
pitched
to Lokalbolig, which were very positive about our solution, and gave us valuable feedback on how the concept could fit even better into Lokalbolig's values.
We used all of our insights from the tests to create a more detailed and
interactive prototype
, as it proved difficult for people to fully understand the idea without being able to interact with the specific functions and criteria of the concept. In general, we found that people valued the
customized experience
and that it opened up for new and unfamiliar municipalities, and at the end emphasized that they liked the usability and visual style of the prototype and found it
easy and simple to navigate through
.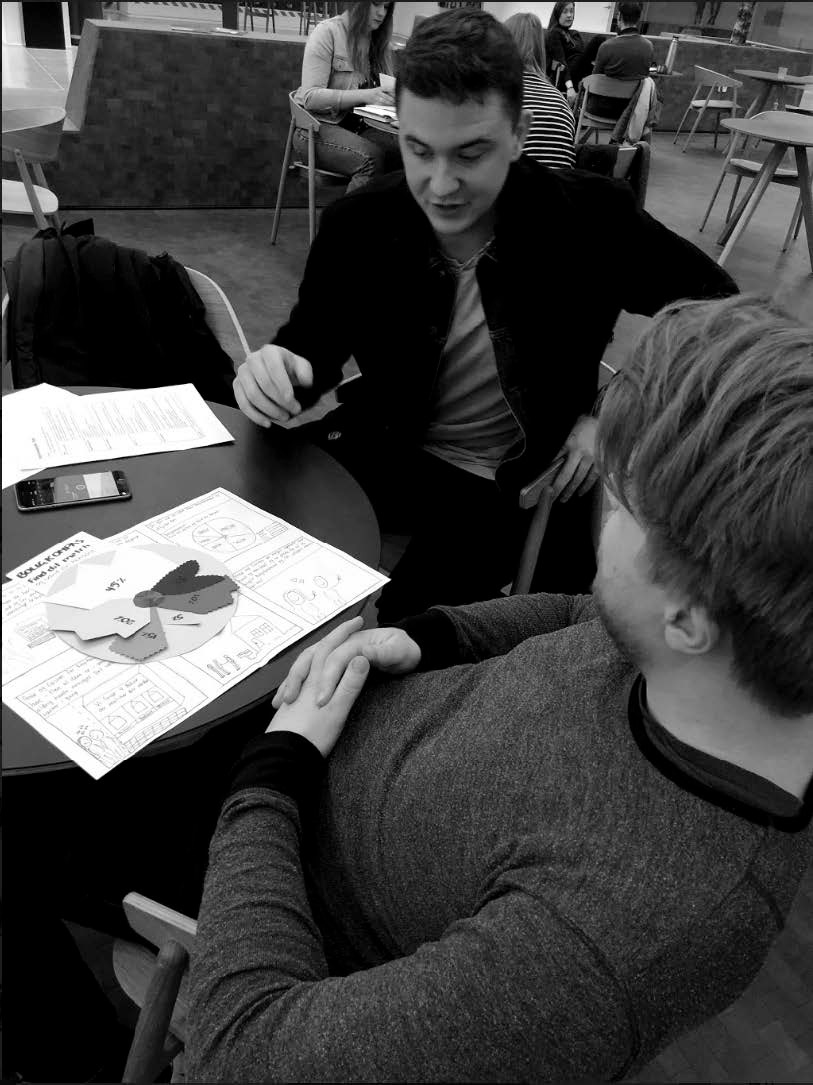 Outcome
The final product was an interactive prototype developed in collaboration and  turned interactive in Sketch by one of my teammates. The product allows the users to define individual search criteria, such as distance to work, nature or a gym, and therefore get a more personalized search experience as well as the opportunity for exploring new municipalities, which might have a wide range of options within the criteria or the users budget.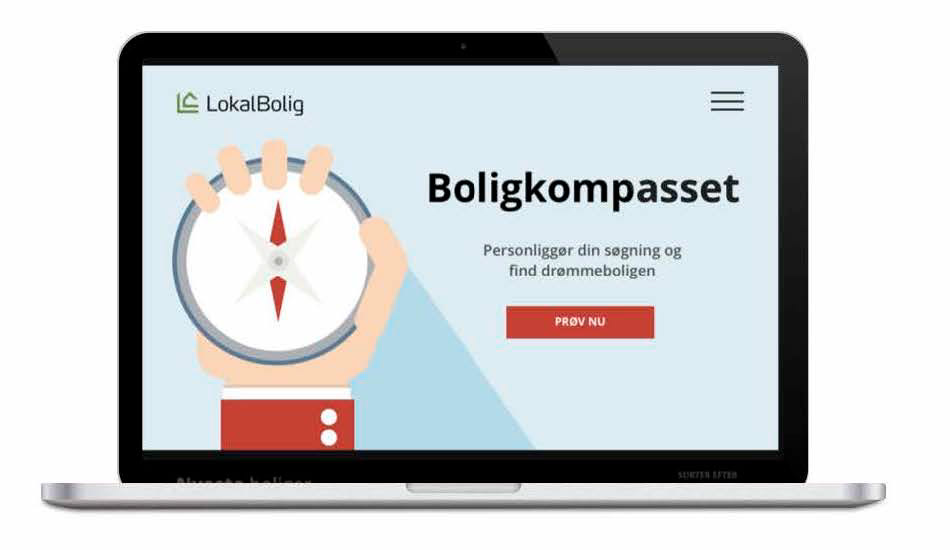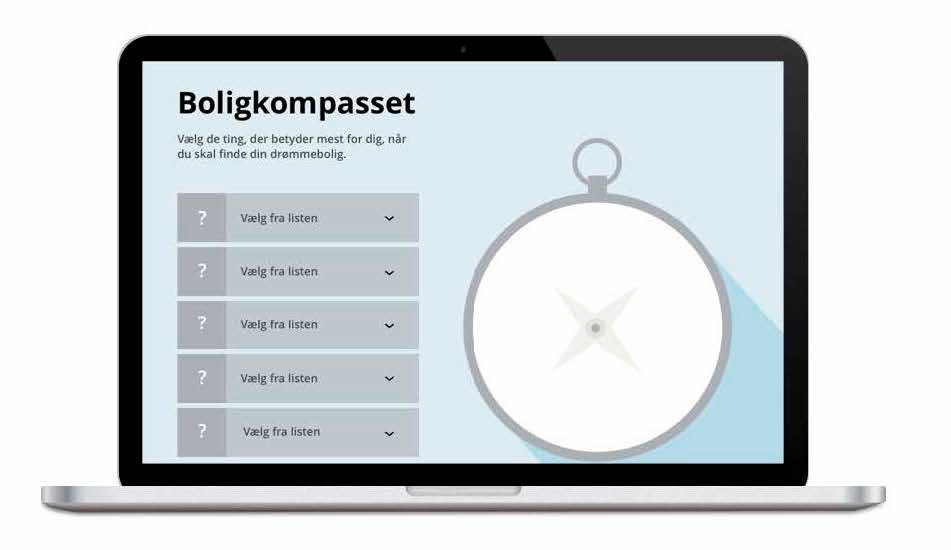 What I learned
In this project, I practiced many different skills, as we ran through the entire design thinking process. I learned to dive into what people are saying and ask questions for reflection. I further learned a lot of new ideation methods and got to practice pitching an idea for a company partner.